Cash registers ONDA R
ONDA R
Design, technology and reliability for our best seller among cash registers with its unmistakable backlit and patented Rch keyboard.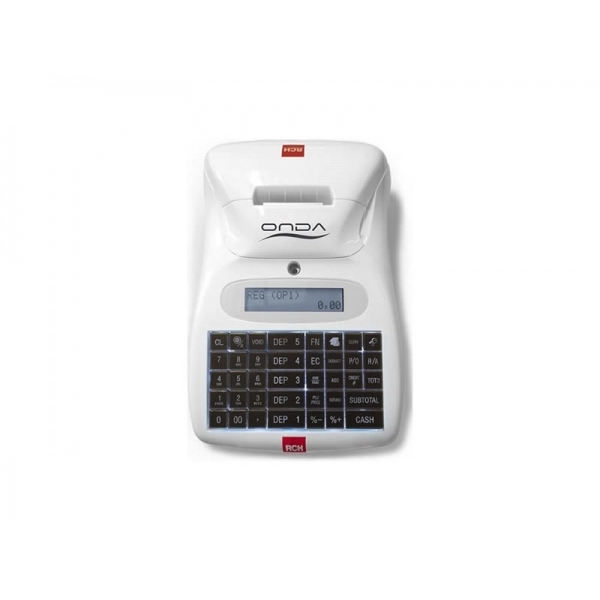 Sectors
Suitable for these sectors
Find out how this product can help you do more for your business in less time.
Main features
Customisable graphic functions
32 characters per print line, 2 customisable logos
5 standard keyboard departments, expandible to 20, programmable LALO-HALO. Up to 1000 PLU with numeric code (EAN/UPCA) and 20-character description
Daily reports and period reports by department, VAT rate, PLU, time slot
Up to 4 clerks with login/logout, name and password
Technical specifications
Operator: Backlit LCD, 2 lines of 16 alphanumeric characters, size 10 mm
Customer: Backlit LCD, 1 line of 16 alphanumeric characters, size 15 mm
Standard keyboard with 38 configurable keys (max 45),
waterproof.
High resolution graphic termal printer
Width 57,5 mm / Diameter 50 mm

Easy loading with manual cutter
1 RS 232 serial port with RJ45 connector for PC and barcode reader
1 RJ11 connector for 12 V cash drawer
1 ethernet
1 micro USB for PC e USB pendrive
Compact equipped with compartment for cable disappearance
Paper out (roll finished), print head temperature, printer cover open
External power supply, output 12Vdc/36W
L222 P346 H112 mm – 2000 g
Accessories
Carriage bag for outdoor use